Christmas time is a perfect time to show appreciation and strengthen relationships with clients, employees, and business partners. Corporate Christmas gifts express gratitude and serve as thoughtful gestures that can leave a lasting impression. This article will explore the importance of corporate Christmas gifts, their benefits, and the factors to consider when choosing the right gifts for your business relationships.
How to Choose the Best Corporate Christmas Gifts
When selecting the best corporate Christmas gifts, it's crucial to consider a blend of thoughtfulness, practicality, and brand representation. Start by understanding the recipient's interests and preferences, ensuring the gift resonates with their personal or professional lifestyle. Opt for quality over quantity, choosing items that reflect the company's values and ethos. Practical, high-quality items like customised stationery, tech gadgets, or eco-friendly products often make excellent choices. Additionally, subtle branding can enhance the gift's connection to your company without overshadowing its purpose. Remember, the goal is to convey appreciation and strengthen relationships, so prioritise meaningful and memorable gifts.
The exquisite Chateauneuf-du-Pape Cuvee Speciale, a true gem among wines. Encased in a beautifully crafted wooden gift box, this 75-bottle from Virgin Wines is a luxurious choice for connoisseurs and wine enthusiasts.
Presented in an elegant wooden gift box, this bottle makes a statement as a thoughtful gift for wine lovers, making it an excellent choice for birthdays, anniversaries, or corporate occasions. The meticulous attention to detail in both the wine and packaging ensures a truly unforgettable experience from start to finish.
Impress your colleagues, clients, or business partners with the Vintage Style Gourmet Food and Wine Chest Hamper. With its
Indulge in a journey of flavours with an array of exquisite goodies. From artisanal cheeses and savoury charcuterie to gourmet crackers and handmade preserves, this hamper offers a variety of culinary delights that are sure to impress. The carefully chosen selection also includes fine chocolates, delectable cookies, and other delectable sweet treats, providing a balance of flavours that cater to every taste.
The ultimate gift for red wine lovers during the corporate Christmas season—the Connétable Talbot 1998 Saint-Julien 75cl with 2 x Riedel Glasses in a Deluxe Wooden Gift Box. This luxurious ensemble impresses and delights wine connoisseurs and business associates.
The exceptional Connétable Talbot 1998 Saint-Julien red wine is at the heart of this gift. Hailing from the renowned Saint-Julien appellation in Bordeaux, France, this vintage is a testament to the artistry and expertise of winemaking. With its deep garnet colour and complex aromas of blackcurrants, plums, and spices, this wine offers an exquisite sensory experience.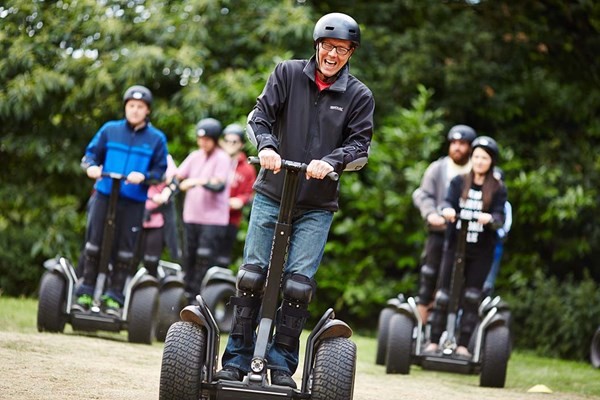 This holiday season, make a bold statement with your corporate Christmas gifts by gifting the Buyagift "60 Minute Segway Thrill for Two." It's a high-tech adventure that embodies innovation, excitement, and memorable experiences. This package includes a thrilling 60-minute Segway adventure, where participants step into the future on these gyroscopic marvels. What sets this gift apart is its complete experience – from a comprehensive introduction and safety briefing to hiring essential safety gear, including helmets, elbow pads, and knee pads. A dedicated training session with an expert instructor ensures participants are fully prepared, setting the stage for a thrilling adventure.
As they take control of these electric steeds and embark on an exhilarating journey around the Segway Rally Course, they'll have the opportunity to challenge each other, push their boundaries, and see who claims the bragging rights for the journey home. To commemorate this electrifying experience, they'll each receive a special certificate, making it a memorable corporate Christmas gift that reflects your commitment to innovation and shared excitement. This gift isn't just a present; it's an invitation for your team or clients to create memorable experiences, strengthen bonds, and uniquely celebrate the holiday season. Make a statement with your corporate gifts this Christmas, and set your company apart by delivering an adventure that promises lasting memories and shared moments of thrill and excitement.
The Personalised Engraved Parker Jotter Stainless Steel Ballpoint Pen arrives in a stylish presentation box, further
Crafted from high-quality stainless steel, this Parker Jotter pen exudes durability and style. Its sleek design, featuring a black ink ballpoint, offers a smooth and effortless writing experience, leaving a lasting impression with every stroke.
The Apple AirPods with Lightning Charging Case are the perfect corporate gift, combining cutting-edge technology, convenience
The Lightning Charging Case provides a convenient and reliable way to keep the AirPods charged and protected. Place the earbuds in the case, and they will automatically start charging, ensuring they are always ready for use. The Lightning connector also makes it easy to charge the case using the included cable or any compatible Lightning cable.
Elevate your Christmas gifting with a stunning bouquet of Christmas flowers from the Appleyard website. These festive blooms are more than just a gift; they're a symphony of holiday spirit, bringing joy, warmth, and elegance to your loved ones' celebrations.
Appleyard's Christmas flower collection features a range of enchanting arrangements, each carefully handcrafted by skilled florists. From the rich hues of deep red roses to the snowy white lilies and the lush greenery of traditional festive foliage, these bouquets capture the essence of the holiday season. Whether you're gifting a classic Christmas centrepiece for the dining table or a whimsical winter wonderland arrangement, these flowers are designed to spread the magic of Christmas.
Every petal and leaf is chosen carefully, ensuring the highest quality and freshness. The Christmas flowers from Appleyard are the perfect gift to brighten homes, share love, and make cherished memories during this special time of the year. So, surprise your loved ones with a touch of floral enchantment and give them the gift of a Merry Christmas that they'll remember forever.
Impress and delight with the Snowdonia Cheese Company Quintessential Cheese Hamper, a corporate gift that celebrates the art of cheese-making and the joy of culinary exploration. Treat your recipients to an array of award-winning cheeses, chutneys, and crackers, and create lasting memories of exceptional flavours and shared moments.
Inside this premium hamper, recipients will discover five carefully chosen, handcrafted kinds of cheese from the renowned Snowdonia Cheese Company. Each cheese is a masterpiece of flavour and craftsmanship, showcasing the finest ingredients and traditional cheese-making techniques. From rich and creamy Bouncing Berry to the robust and tangy Black Bomber, this selection promises a diverse and unforgettable taste experience.
Show your appreciation and foster a sense of well-being with the Mariway Bay Pamper Hamper Gift Set for Women.
Inside this beautifully presented hamper, recipients will find carefully curated items, each crafted with utmost care and attention to detail. From soothing bath salts and aromatic candles to nourishing body butter and calming herbal teas, this collection offers a comprehensive spa-like experience that promotes relaxation and self-care.
Quevedo's Tasting Experience Wine selection pack and Connoisseur Pack offer a delightful journey through the world of their exquisite Port wines. These carefully curated packs are designed to give wine enthusiasts a comprehensive tasting experience, allowing them to savour a range of Quevedo's finest wines. Whether you're a connoisseur looking to explore the nuances of different Port varieties or a wine lover seeking a special treat, these packs offer an excellent opportunity to savour the flavours and craftsmanship of Quevedo's wines. To find these packs, you can visit Quevedo's official website, check with online wine retailers or local wine shops, or contact Quevedo directly for information on availability.
Quevedo, a distinguished Port wine producer, is known for its dedication to quality and tradition. Their Tasting Experience Wine selection pack and Connoisseur Pack reflect this commitment and provide wine enthusiasts with a delightful and educational tasting adventure. So, whether you're looking for a special gift or an opportunity to explore the world of Port wines, consider exploring these thoughtfully curated packs from Quevedo.
The Ember New Temperature Control Smart Mug 2, is the perfect corporate Christmas gift for coffee enthusiasts. This innovative and stylish mug combines advanced technology with a sleek design, ensuring the perfect temperature for every sip.
With its temperature control feature, the Ember Smart Mug 2 allows users to set and maintain their preferred drink temperature through an easy-to-use mobile app. Whether it's hot coffee, tea, or any other beverage, this smart mug ensures that the drink stays at the desired temperature from the first sip to the last.
Impress and delight with the Vegan Brownie Box, a corporate Christmas gift that brings the magic of indulgent vegan treats to the forefront. Let your recipients savour the flavours of these delectable brownies and experience the joy of guilt-free indulgence.
Inside this enticing box, recipients will discover a variety of indulgent vegan brownie flavours. This assortment offers a delightful range of tastes and textures, from the classic Biscoff and Oreo to the zesty Candied Orange and the delightful Cherry Bakewell. Additionally, the box includes the rich and creamy Nutella and the nutty Peanut Butter flavours, providing a well-rounded selection that caters to different preferences.
The Gourmet Food Lovers Hamper Gift by Clearwater Hampers is a delightful and versatile corporate gift that will impress both men and
The Gourmet Food Lovers Hamper Gift is designed to cater to sweet and savoury cravings. It includes a variety of carefully chosen items, such as rich and velvety chocolates, buttery shortbread cookies, flavorful teas, and savoury snacks, ensuring there is something for everyone to enjoy.
The Gourmet Food Lovers Hamper Gift is elegantly presented in a premium gift box, reflecting the contents' quality and attention to detail. The beautiful packaging adds an extra touch of luxury, making it a memorable corporate gift.
Mademoiselle Macaron's Classic 12 Macaron Gift Box is a delightful corporate Christmas gift that combines
Inside this box, recipients will find a variety of macaron flavours, each offering a unique taste experience. From classic flavours like vanilla and chocolate to more adventurous options like raspberry, pistachio, and salted caramel, these macarons are a feast for the senses. The delicate meringue shells and luscious fillings perfectly balance textures and flavours, ensuring an unforgettable indulgence.
Impress and delight your recipients with the IRON °FLASK Classic Tumbler, a corporate gift that combines
The Classic Tumbler features a double-walled design with premium insulation, ensuring that hot drinks stay hot for up to 6 hours and cold drinks stay cold for up to 24 hours. This exceptional temperature retention capability allows recipients to enjoy their favourite beverages at the perfect temperature, whether piping hot coffee on a chilly morning or an ice-cold beverage on a hot summer day.
Impress and delight your employees, clients, or business partners with the Pukka Herbs Tea Discovery Chest.
Inside this thoughtfully curated chest, recipients will discover an array of Pukka Herbs' finest teas, crafted with care using high-quality organic ingredients. From soothing chamomile and refreshing peppermint to aromatic green tea and uplifting blends like turmeric gold and, elderberry & echinacea, this selection caters to a wide range of tastes and preferences.
The Ninuo UV-C Sterilization Water Bottle and Self-Cleaning Stainless Steel Insulated Bottle, the perfect corporate Christmas gift that combines functionality and hygiene. This innovative water bottle keeps beverages hot or cold and utilises UV-C sterilisation technology to provide clean and purified drinking water.
What sets this water bottle apart is its built-in UV-C sterilisation technology. With a simple touch of a button, the bottle uses powerful ultraviolet light to kill up to 99.9% of bacteria and viruses in the water, ensuring a safe and clean drinking experience. This self-cleaning feature is precious, especially when access to clean water is limited.
Impress and delight whisky enthusiasts with the Whisky Gift Set in a Gift Box with a Drawer. This corporate Christmas gift offers a unique opportunity to explore and savour a range of whiskies, all from the comfort of their own home. Let them indulge in the whisky world, discovering new flavours and expanding their appreciation for this revered spirit.
Inside the gift box, recipients will find a variety of carefully chosen miniature whiskies from renowned distilleries. Each dram offers a distinct flavour profile, allowing whisky lovers to explore different regions, styles, and age statements. This set provides a comprehensive whisky-tasting journey from rich and smoky Islay malts to smooth and delicate Highland expressions.
Inside the Nutcracker Drum Tin, recipients will find a generous quantity of artisanal biscuits, lovingly.
The Nutcracker Drum Tin adds a touch of festive flair to any setting. Its charming design features a traditional nutcracker motif, evoking a sense of nostalgia and holiday spirit. The reusable tin can be displayed as a decorative piece or used to store other treats or keepsakes, extending the enjoyment beyond the biscuits.
The Hotel Chocolat Everything Sleekster is the perfect corporate gift that will delight chocolate lovers with its indulgent and luxurious assortment. This 355g sleek box is filled with a tempting selection of Hotel Chocolat's finest chocolates, offering a memorable and decadent experience.
Hotel Chocolat is renowned for its commitment to quality and ethical sourcing. Each chocolate is made with sustainably grown cacao beans, ensuring every bite is a guilt-free pleasure. The exquisite designs and flavours show attention to detail and artistry, making these chocolates a true sensory delight.
The Cottage Delight The Cheeseboard Accompaniments Hamper, the perfect corporate Christmas gift for cheese lovers. This carefully curated hamper is filled with a selection of delightful accompaniments that perfectly complement a cheeseboard, offering a gourmet experience to be enjoyed during the holiday season.
Inside this beautifully presented hamper, recipients will find a range of artisanal treats handpicked by Cottage Delight. From savoury chutneys and tangy pickles to crunchy crackers and flavorful condiments, this hamper provides various options to enhance the enjoyment of cheeses. Each product is crafted with care using high-quality ingredients, ensuring a premium taste experience.
The Flowering Tea Bulbs by The Tea Makers of London is a delightful and unique corporate gift that combines the artistry of blooming tea with a blend of natural flavours. This gift set features a collection of handcrafted flowering tea bulbs, carefully composed of green tea leaves, jasmine flowers, rose buds, and other botanicals, offering a sensory experience like no other.
Each flowering tea bulb is a work of art, hand-tied precisely to create a beautiful display steeped in hot water. As the bulb unfurls, delicate flowers and leaves gracefully emerge, creating a visually stunning spectacle. This captivating presentation adds an element of elegance and sophistication to any tea-drinking experience.
The Artisan Coffee Co. The Coffee Bag Ultimate Collection is the perfect corporate gift for coffee enthusiasts. This thoughtfully curated gift set features an assortment of individually wrapped coffee bags, offering a convenient and flavorful way to enjoy exceptional coffee anytime, anywhere.
Inside this collection, recipients will discover a range of characteristic blends and roasts, showcasing the diversity and complexity of coffee flavours. Each coffee bag contains 100% Arabica beans, carefully selected for their quality and distinct profiles. From bold and robust dark roasts to smooth and balanced medium roasts, this collection caters to various tastes.
Factors to Consider When Buying Corporate Christmas Gifts
When buying corporate Christmas gifts, several key factors should be considered to ensure they are appropriate, appreciated, and effective in conveying your company's message:
Recipient Preferences and Profile: Understanding the recipients' tastes, interests, and needs is fundamental. Tailoring gifts to match their preferences shows thoughtfulness and attention to detail.
Quality and Practicality: Choose high-quality items that are useful to the recipient. Practical gifts that can be used in a professional setting are often well-received.
Brand Alignment: The gift should reflect your company's values and image. It's an opportunity to reinforce your brand identity and ethos.
Cultural Sensitivity: Be mindful of the cultural backgrounds of the recipients. Avoid gifts that could be misinterpreted or are culturally insensitive.
Budget Considerations: Determine a budget that reflects the value of your relationship with the recipients and fits within your company's financial constraints.
Customisation and Personalisation: Adding a personal touch, whether through custom branding or personalisation, can make gifts more meaningful.
Corporate Policies and Ethics: To avoid potential conflicts of interest or ethical issues, be aware of gift policies within your company and the recipient's company.
Sustainability: Consider environmentally friendly gifts. Eco-conscious choices can reflect positively on your company's commitment to sustainability.
Packaging and Presentation: How a gift is presented can significantly impact its reception. Elegant and professional packaging can enhance the gift's perceived value.
Timeliness: Ensure that gifts are chosen, ordered, and delivered well ahead of time, especially during the busy holiday season.
By carefully considering these factors, you can choose corporate Christmas gifts that are both memorable and effective in strengthening your business relationships.
The Different Types of Christmas Corporate Gifts
The variety of Christmas corporate gifts caters to different tastes, preferences, and business relationships. Here are some of the different types:
Customised Stationery: High-quality notebooks, pens, and desk accessories, often personalised with the recipient's name or company logo.
Technology Gadgets: USB drives, wireless chargers, or high-end tech accessories like Bluetooth speakers or headphones, often branded for a personal touch.
Gourmet Food and Drink: Hampers filled with fine wines, artisanal cheeses, chocolates, or coffee. These can range from luxury brands to local specialities.
Eco-Friendly Products: Sustainable items like reusable coffee cups, eco-friendly office supplies, or products made from recycled materials reflect a commitment to environmental responsibility.
Health and Wellness Items: Fitness trackers, yoga mats, or wellness gift baskets, catering to the growing focus on health and well-being.
Subscriptions and Memberships: These could include magazine subscriptions, online learning platforms, or memberships to exclusive clubs, offering long-term value.
Corporate Apparel: High-quality clothing items like scarves, ties, or jackets, possibly branded with the company logo, combining utility with corporate identity.
Experiential Gifts: Gift cards for experiences like spa days, gourmet dinners, or adventure activities, offering a memorable experience rather than a physical item.
Handcrafted Goods: Unique, handcrafted items from local artisans, including pottery and custom artwork, add a personal and unique touch.
Charitable Donations: Donating to a charity in the recipient's name reflects a shared commitment to social causes.
Each type of gift offers a different way to convey appreciation and strengthen business relationships. The choice depends on the company's culture, the nature of the relationship, and the personal preferences of the recipients.
Measuring the Impact of Corporate Christmas Gifts
Measuring the impact of corporate Christmas gifts is crucial for understanding their effectiveness in fostering business relationships and enhancing brand perception. Here are some approaches to gauge their impact:
Collection of Feedback: Post-gift surveys or informal feedback from recipients can provide insight into how the gifts were received and their perceived value.
Engagement Metrics: Monitor any increase in engagement with your brand post-gifting. This could include interactions on social media, email responses, or increased business inquiries.
Relationship Longevity: Track the longevity and quality of your business relationships. A positive correlation between gift-giving and prolonged business engagements can indicate the impact of your gifting strategy.
Employee Feedback: Employees often have direct contact with clients and can provide valuable insights into how gifts are received and their effect on business relationships.
Brand Perception Analysis: Assess changes in brand perception through tools like brand sentiment analysis, which can be done through social media monitoring or market research.
Return on Investment (ROI): Compare the cost of the gifts with any tangible business benefits received, such as new contracts, referrals, or increased sales.
Repeat Business and Customer Loyalty: Monitor repeat business from the gift recipients. Increased loyalty or repeat contracts can be a strong indicator of the effectiveness of your gifts.
Referral Rates: An increase in referrals following your gift-giving period can signify the success of your gifting strategy in making a positive impression.
By combining these methods, you can develop a comprehensive understanding of how corporate Christmas gifts affect your business relationships, brand reputation, and overall business success. This evaluation can guide future gifting strategies, ensuring they are aligned with your business objectives and deliver the desired impact.
Conclusion
Corporate Christmas gifts are an excellent way to express gratitude, strengthen relationships, and leave a positive impression on clients, employees, and business partners. By carefully considering the type of gifts, personalising when possible, and ensuring professional presentation, you can create memorable experiences that foster long-lasting connections. Remember to follow etiquette, measure the impact, and nurture these relationships beyond the holiday season.
FAQs
How can corporate Christmas gifts strengthen business relationships?
Corporate Christmas gifts serve as a gesture of appreciation, showing recipients that their business and support are valued. They help build rapport, strengthen connections, and foster long-term business relationships.
What are some popular corporate gift options for clients?
Popular corporate gift options for clients include personalised gift sets, gourmet baskets, customised desk accessories, or branded promotional items. Consider the recipient's preferences and interests when selecting gifts.
How can I personalise corporate gifts for employees?
Personalize corporate gifts for employees by considering their interests, hobbies, or preferences. You can include their names or initials on the gift, choose items related to their work or personal life, or tailor gifts to match their specific roles or achievements.
Are there any budget-friendly options for corporate Christmas gifts?
Yes, there are budget-friendly options for corporate Christmas gifts. Consider items such as customised stationery, personalised mugs, or small token gifts that reflect appreciation without straining your budget.
Is it appropriate to give corporate gifts during the holiday season?
Yes, giving corporate gifts during the holiday season is a common and appropriate practice. It allows you to express gratitude and share the festive spirit with clients, employees, and business partners. However, be mindful of cultural or religious sensitivities and ensure your gifts are inclusive and respectful.