Iron Man, also known as Tony Stark, is not just a superhero; he's an icon, a symbol of innovation, resilience, and charisma. For fans of this Marvel legend, owning a piece of Iron Man memorabilia is akin to holding a fragment of the Marvel universe. In this guide, we'll soar through the skies of the best Iron Man gifts, ensuring that every item you choose resonates with the heart and passion of the Iron Man lover in your life.
How to Choose the Best Iron Man Gifts
Diving into the world of Iron Man gifts can be as exhilarating as one of Tony Stark's high-flying adventures. When selecting the perfect Iron Man memorabilia, it's essential to consider the recipient's depth of fandom and specific interests within the Iron Man universe. For die-hard fans following Tony Stark's journey from his first comic appearance to his cinematic evolution, limited edition collectables, vintage comic books, or even replica arc reactors might strike a chord. On the other hand, for newer fans, especially those introduced to Iron Man through the Marvel Cinematic Universe, merchandise like themed apparel, action figures, or posters from iconic movies can be a hit.
Moreover, the age of the recipient plays a pivotal role. Younger fans might appreciate interactive toys, Iron Man costumes, or even themed school supplies. In contrast, older enthusiasts might lean towards sophisticated items like detailed figurines, Blu-ray collections, or even Iron Man-inspired tech gadgets. Always watch for officially licensed products to ensure authenticity and quality. Ultimately, the best Iron Man gifts capture the essence of Tony Stark's charisma, innovation, and indomitable spirit, making them treasures for any fan.
Celebrate the hero in your life with the Lego Brick Sketches Marvel Iron Man Art Display Piece. This festive and creative birthday gift is perfect for anyone aged eight and up who loves Lego and Iron Man.
With 200 pieces, they can build their own Iron Man artwork to proudly display. This unique Lego set combines the fun of building with the excitement of creating a stunning Iron Man portrait. It's a fantastic way to bring joy to the special occasion and let their creative spirit shine.
Get ready to add some excitement to your collection with the WOW! PODS Avengers Collection featuring Iron Man. This officially licensed Marvel toy is a must-have for fans and collectors of all ages. The Superhero Light-Up Bobble-Head Figure is a unique and eye-catching addition to your display.
With its fun bobble-head action and built-in LED lights, it's sure to be a conversation starter. Whether you're a long-time Iron Man enthusiast or just looking for an excellent gift, this collectable is a fantastic choice. Bring the power of Tony Stark's alter ego to your home with this incredible Iron Man figure.
Elevate your space with this Iron Man Rug, perfect for fans of the iconic Marvel character. Whether you're decorating a bedroom, game room, or any area where you want to showcase your love for Iron Man, this rug is a fantastic choice. Its vibrant design featuring Iron Man's likeness adds excitement to your decor.
Crafted with quality and style in mind, this rug is visually appealing and comfortable underfoot. It's a great way to express your fandom and make your living space uniquely yours. Get ready to bring the world of Iron Man into your home with this fantastic rug.
Illuminate your space with this Iron Man LED sign, a must-have for Marvel enthusiasts and gamers alike. This neon-inspired sign adds a dynamic and vibrant touch to any room, making it a fantastic gift for birthdays or room decor upgrades. It's not just a light; it's a statement piece that showcases your passion for Iron Man and gaming.
The custom design and vivid colours create a visually striking effect, making it a focal point in any space. Whether in a game room, bedroom, or living area, this LED sign adds an extra dimension of style and character. Brighten up your living space with the charm of Iron Man and gaming culture with this unique and personalised LED sign.
Elevate your gaming setup with this Iron Man Cable Guy, the ultimate gaming accessory holder and phone stand. Designed for Marvel Avengers and Iron Man fans, this stylish and functional accessory keeps your gaming controllers and smartphone organised and within easy reach. Compatible with Xbox, PlayStation, Nintendo Switch controllers, and various phone models, it adds a touch of superhero flair to your gaming station.
This Iron Man Cable Guy helps you keep your gaming area tidy and showcases your love for the iconic Marvel character. Whether you're in an intense gaming session or need a secure spot for your controllers and phone, this Cable Guy covers you. Elevate your gaming experience and display your Iron Man fandom with this versatile, eye-catching accessory holder.
Upgrade your computer setup with this fantastic Iron Man-themed wireless mouse. With 2.4 GHz wireless technology and a USB receiver, this mouse offers seamless connectivity and allows you to work or play without tangled wires. The silent click feature ensures you can use it in quiet environments without disturbing others.
Choose your favourite colour to match your style and elevate your workspace with this Iron Man wireless mouse. Whether you're a fan of Tony Stark or appreciate a well-designed mouse, this Iron Man-themed accessory is functional and visually appealing. Upgrade your computing experience with a touch of superhero flair.
Bring the epic finale of Avengers: Endgame to life with this Lego Marvel Nano Gauntlet set. Designed for adults and collectors, this detailed Iron Man model features the iconic Nano Gauntlet, complete with all the Infinity Stones. It's the perfect collectable memorabilia piece for fans of the Marvel Cinematic Universe.
Assemble the intricate pieces to recreate this pivotal moment from the film, where Iron Man wields the Nano Gauntlet to save the universe. The set includes a sturdy display base with a plaque, making it an impressive addition to any display shelf or desk.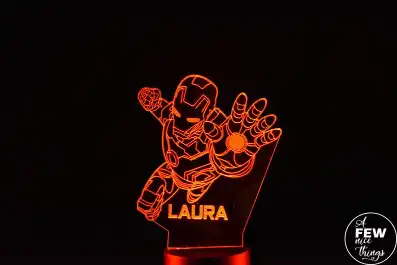 Illuminate your space with the power of Tony Stark himself with this personalised Iron Man Light. This superhero-themed LED light stand is not just a light; it's a statement piece for any Iron Man or Marvel fan. This light's warm and inviting glow adds a cosy ambience to bedrooms, gaming rooms, or any living space.
The personalised touch makes it a thoughtful gift for birthdays or Christmas. Customise it with a name, making it unique for the recipient. This Iron Man light will surely delight you whether for a child's room or a grown-up fan.
Add a touch of Tony Stark's genius to your decor with this Marvel Iron Man Mask 3D Wall Light. This striking piece is perfect for fans of the armoured Avenger and anyone looking to elevate their space. The intricately designed Iron Man mask appears to burst out of your wall, creating a dynamic and eye-catching effect.
Not only does it serve as a unique piece of wall art, but it also functions as a practical LED light. Its warm, inviting glow provides both ambience and functionality to your room. Whether in a bedroom, game room, or home theatre, this Iron Man Mask Wall Light will be a conversation starter.
Enhance your child's bedroom or playroom with the Marvel Avengers Iron Man Shaped Decorative Pillow. This 38cm plush bed cushion is designed like Iron Man's iconic helmet, making it a fantastic addition to any Avengers-themed room.
Crafted with attention to detail, the pillow features vibrant colours and distinctive design elements that fans of Iron Man will instantly recognise. Its soft and huggable feel makes it perfect for cuddling, napping, or as a decorative piece on the bed or chair.
Prepare your little Marvel fan for school or outings with this Boys Marvel Iron Man 3-Piece Set. It includes a stylish Iron Man-themed backpack with comfy straps and multiple pockets, a matching lunch bag to keep meals fresh, and a handy water bottle with a built-in straw. Perfect for young Iron Man enthusiasts on the go!
This 3-piece set is functional and a great way for your child to express their love for Iron Man. Whether headed to school or a playdate, they'll be well-prepared and stylish with this Marvel Iron Man set.
Transform your living space into a superhero haven with this A3 framed print of Robert Downey Jr. as Iron Man. This meticulously crafted piece showcases the charismatic actor in his iconic role and captures the essence of the Marvel Cinematic Universe. The autographed-style print adds authenticity and sophistication to your home decor, making it a must-have for any Iron Man enthusiast.
Whether you're a die-hard Marvel fan or appreciate the genius of Tony Stark, this framed print is a remarkable tribute to one of the most beloved characters in cinematic history. Display it proudly in your living room, home theatre, or office, and let the spirit of Iron Man inspire you every day.
Get ready to suit up and channel your inner Tony Stark with these Iron Man Cosplay Gloves. Designed for kids and adults, these gloves are perfect for Halloween, cosplay parties, or just adding a superhero flair to your outfit. Crafted with attention to detail, these gloves faithfully recreate the iconic look of Iron Man's gauntlets. They're stylish and comfortable to wear, ensuring you can wear them all day or night.
Embrace the power of the arc reactor and step into the shoes of the genius, billionaire, playboy, and philanthropist himself with these Iron Man Cosplay Gloves.
Dive into vintage comics with this original 1984 Iron Man Comic #189 issue. This comic holds a special place in Iron Man's history as it marks the first appearance of The Termite, a unique and memorable character in the Marvel Universe.
This vintage gem is a collector's dream, offering a glimpse into the storytelling and artwork of that era. Relive the excitement of the '80s and the dawn of The Termite's presence in Iron Man's world with this well-preserved, original comic book.
Unleash the power of Tony Stark with this Marvel Avengers Series Assemble Titan Hero Iron Man 12″ Action Figure. Designed for fans of all ages, this action figure captures the essence of the iconic Iron Man in impressive detail. Standing 12 inches tall, it's perfect for play and display.
With multiple points of articulation, you can pose Iron Man in dynamic stances, recreating your favourite action-packed moments from the Marvel Universe. This figure is a part of the Titan Hero Series, which means it's compatible with other Titan Hero Series figures and accessories, allowing you to expand your collection and create epic battles.
Rev up your collection with the Ironman 2016 Chevy Camaro SS 1:24 SCALE Die-Cast Car! This stunning die-cast car is a must-have for both Marvel and automotive enthusiasts. It's a true collector's item, featuring the sleek and robust design of the 2016 Chevy Camaro SS with Iron Man's iconic colours and logo.
Precision crafted at 1:24 scale, this die-cast car is a detailed replica of the real thing. This officially licensed product is a testament to the fusion of two beloved worlds: the Marvel Universe and high-performance automobiles. It's the perfect addition to any Marvel or car enthusiast's collection and will turn heads wherever it goes. Get ready to race into action with Iron Man in style!
Unleash the power of Stark Tech with the Funko POP! Marvel Avengers Game-Iron Man (Stark Tech Suit) Collectable Vinyl Figure! This officially licensed collectable is a must-have for Marvel fans, gamers, and collectors alike. Standing approximately 3.75 inches tall, this Funko POP! figure captures Iron Man in his sleek Stark Tech Suit, as seen in the Marvel Avengers video game.
This Iron Man Funko POP! is an excellent gift for kids and adults. Whether you're celebrating a special occasion or want to treat yourself, it's a fantastic way to bring a piece of the Marvel Universe into your world. Add this Stark Tech Suit Iron Man to your collection today!
Unveil the iconic Iron Man Mark VII Helmet from Eaglemoss Collections! This meticulously crafted collectable is a true treasure for Marvel enthusiasts and Iron Man fans. The Iron Man Mark VII Helmet, known for its cutting-edge technology and sleek design, has been faithfully recreated in this multi-coloured collectable.
This officially licensed piece of Marvel memorabilia stands as a testament to the craftsmanship of Eaglemoss Collections. Marvel at the brilliance of Tony Stark every time you glance at this Iron Man Mark VII Helmet. Whether adding it to your collection or gifting it to a fellow fan, it's a must-have for anyone who's ever dreamed of being a hero.
Experience superhero comfort with these Iron Man Avengers 100% cotton short pyjamas! Crafted for fans of all ages, these pyjamas are comfortable and have a fantastic twist. What sets these pyjamas apart is the glow-in-the-dark front featuring the iconic Iron Man design. It's a great touch that adds extra excitement to bedtime.
So, why settle for ordinary pyjamas when you can have ones that bring the magic of Iron Man to your bedtime routine? Upgrade your sleepwear with these Iron Man Avengers pyjamas and enjoy a good night's rest in superhero style!
Elevate your Marvel collection with the Limited Edition Iron Man Ingot, a true treasure for fans of the iconic superhero. Crafted with meticulous attention to detail, this ingot captures the essence of Iron Man in a stunning collectable piece. It's a striking representation of the armoured Avenger's iconic look, with intricate detailing and a high-quality finish.
This limited edition Iron Man Ingot is a must-have for any Marvel enthusiast. It's not just a collectable; it's a statement piece that reflects your passion for the Marvel Universe and your admiration for Iron Man's heroics.
Introducing the Ty Marvel Avengers Iron Man Squish-A-Boo, a delightful addition to the world of Marvel collectables and plush toys. This licensed squishy beanie baby stands an impressive 14 inches tall, making it a cuddly and huggable companion for Marvel fans of all ages.
This collectable plush toy is designed with meticulous attention to detail, featuring Iron Man's iconic red and gold suit with embroidered facial features that capture the essence of Tony Stark's alter ego. Whether you're a fan of the Marvel Cinematic Universe or the classic comic books, this Squish-A-Boo brings Iron Man to life in a soft and squishy form.
Stay connected and embark on thrilling adventures with the Avengers Walkie Talkies. These walkie-talkies are perfect for kids and adults who are fans of Earth's mightiest heroes. Featuring iconic Avengers branding, these walkie-talkies not only provide a fun way to communicate but also let you unleash your inner superhero.
The simple push-to-talk button makes them easy for all ages, and the built-in speaker ensures clear and crisp communication. Designed for durability and hours of play, these Avengers walkie-talkies are a fantastic addition to any Avengers-themed playtime or collection. Join forces with your favourite heroes and experience the excitement of being part of the Avengers team with these fun and functional walkie-talkies.
Get ready for high-speed, remote-controlled action with the Marvel 1:16 Iron Man 2019 Dodge Challenger SRT Hellcat RC Car. This RC car is an exhilarating addition to your collection and is perfect for kids and adults alike. It's a 1:16 scale replica of the 2019 Dodge Challenger SRT Hellcat, and it's ready to tear up the pavement with its powerful 2.4GHz remote control system.
With full-function capabilities like forward, reverse, left, and right turns, you can race this car with precision and control. The high-quality design and attention to detail make it look real. Plus, it's indoor and outdoor so you can take your races to the streets or your living room.
Introducing the Marvel The Avengers Iron Man Projector Clock – the ultimate addition to any superhero-themed bedroom! This clock doesn't just tell time; it brings the excitement of Iron Man into your room. With its eye-catching design featuring Iron Man's iconic colours of red and yellow, this clock is a must-have for fans of Tony Stark's alter ego. But it's not just about aesthetics; it's packed with excellent features.
First and foremost, it's a fully functional clock with a digital display, ensuring you're always on time for your adventures. But here's where it gets enjoyable: it comes equipped with a projector that can beam the time onto your ceiling in a cool Iron Man style. To add to the excitement, this clock also features sound effects bound to make you feel like you're in the middle of an Avengers mission.
Bring the Marvel universe to your game night with the Winning Moves Marvel Guess Who? Board Game. This exciting twist on the classic Guess Who? game features your favourite superheroes and characters from the Avengers, Guardians of the Galaxy, and Wakanda forces.
With high-quality components and the thrill of Marvel characters, the Winning Moves Marvel Guess Who? Board Game is the perfect addition to any game night or a great gift for Marvel fans of all ages. Get ready to challenge your friends and family to see who can guess their way to victory in the Marvel universe!
The Marvel Iron Man Armoury Toy is a must-have for young Iron Man fans and aspiring superheroes. Its intricate design and attention to detail allow kids to immerse themselves in the world of Marvel and take on the role of Iron Man.
The Iron Man Armoury Toy has various features and accessories, providing endless hours of imaginative play. Kids can assemble and customise their Iron Man suits like Tony Stark does in the movies. One of the standout features is including multiple Iron Man suits, each with unique capabilities and design. Additionally, the toy incorporates lights and sounds, enhancing the overall play experience and making it feel more authentic.
Conclusion
The allure of Iron Man transcends the screen, capturing the imaginations of fans worldwide. The best Iron Man gifts encapsulate the essence of Tony Stark's character, blending innovation with style. Whether it's a birthday, a special occasion, or just a token of appreciation, a thoughtfully chosen Iron Man gift can light up the day of any Marvel enthusiast. So, gear up, put on that arc reactor, and dive into the world of Iron Man gifting.
FAQs
Why are Iron Man-themed gifts so popular?
Iron Man, being one of the central characters in the Marvel Cinematic Universe, has garnered a massive fan base, making his merchandise highly sought after.
What are some of the best Iron Man gifts for avid collectors?
Limited edition figurines, signed memorabilia, and vintage comic books are among the top picks for collectors.
Are there any Iron Man gifts suitable for younger fans?
Absolutely! Consider Iron Man action figures, themed clothing, or interactive toys inspired by the character.
Where can I find unique and personalised Iron Man gifts?
Speciality comic book stores, online fan merchandise platforms, and conventions often offer a range of bespoke and exclusive Iron Man-related items.
How can I ensure the authenticity of an Iron Man gift?
Purchase from reputable sources, check for authenticity seals or certificates, and be wary of prices that seem too good to be true.