Hanukkah, the Festival of Lights, is a time of joy, reflection, and celebration. As the menorah's candles are lit, families come together to share stories, enjoy traditional foods, and exchange gifts. Choosing the right Hanukkah Gifts can be a beautiful way to show appreciation and love to your dear ones. Whether you're looking for something traditional or a modern twist, this guide will help you navigate the myriad of options available, ensuring you find the perfect gift to illuminate the festivities.
How to Choose the Best Hanukkah Gifts
Selecting the best Hanukkah gifts requires a blend of understanding tradition and recognising the recipient's personal tastes. Hanukkah, the Festival of Lights, is deeply rooted in history and tradition, and many gifts often reflect this significance. When considering a gift, think about items that not only celebrate the festival but also resonate with the individual's interests. Traditional gifts like gelt (chocolate coins), dreidels, and Judaica items are always appreciated. However, in today's diverse world, it's also worth considering modern gifts that might hold personal meaning, such as books, tech gadgets, or even experience-based presents that can create lasting memories.
Moreover, the essence of Hanukkah is not just in the act of giving but in the thoughtfulness behind each gift. Personalised presents, whether they're engraved keepsakes or custom-made crafts, can add a touch of individuality and show that extra effort was put into the gift selection. If you're considering gifts for children, educational toys or books about Hanukkah can be both fun and informative. For adults, consider their hobbies and passions, and try to find something that aligns with them. Ultimately, the best Hanukkah gifts are those that combine tradition with personal relevance, ensuring a memorable and meaningful celebration.
These necklaces offer a beautiful way to celebrate and express your connection to Hebrew culture and heritage. The Engraved Hebrew Name Necklace is a personal and meaningful accessory, featuring a pendant with your name elegantly engraved in Hebrew script.
For a touch of individuality, the Birthstone Hebrew Name Necklace combines the beauty of your Hebrew name with a birthstone of your choice, making it a unique and symbolic piece of jewelry. The necklace is a stylish and sentimental choice, featuring a heart-shaped lock pendant with a Hebrew name delicately engraved onto it.
The Wooden Omer Counter is a beautifully crafted piece that serves both a functional and spiritual purpose. Designed to count the days from Passover to Shavuot during the Omer period, it brings a touch of tradition into your daily life.
Carved from quality wood, it exudes a rustic elegance, making it a cherished addition to your Judaica collection. Its practicality is matched by its aesthetic appeal, making it a wonderful gift for those seeking a meaningful and traditional way to mark the Omer journey. Whether for personal use or as a thoughtful present, this wooden omer counter is a symbol of continuity and devotion within Jewish traditions.
The "Happy Hanukkah" Embossing Rolling Pin is a delightful and unique tool for adding a touch of holiday cheer to your baked goods. This rolling pin is specially designed for cookie decorating, featuring laser-engraved Hanukkah-themed patterns and the cheerful message, "Happy Hanukkah."
Designed with precision, it allows you to effortlessly emboss your cookie dough with intricate designs that celebrate the Festival of Lights. Whether you're a seasoned baker or just love making treats during Hanukkah, this laser-engraved rolling pin is a must-have. It not only produces beautifully detailed cookies but also adds a warm and festive touch to your culinary creations during this special holiday.
The "Happy Hanukkah" Scented Candle Decor Gift is a lovely and aromatic way to celebrate the Festival of Lights. This carefully crafted candle serves as both a decorative piece and a source of fragrant joy during Hanukkah festivities.
With a charming "Happy Hanukkah" inscription and perhaps a pleasant holiday scent, it not only adds a warm and inviting ambiance to your home but also makes for a thoughtful gift during this special time of year. Whether for your own holiday decor or as a heartfelt gesture to friends and loved ones, this scented candle embodies the spirit of Hanukkah, bringing light, warmth, and a delightful aroma to your celebrations.
The "Happy Hanukkah" 3D Engraved Crystal Decoration is a striking and elegant addition to your Hanukkah festivities. This crystal decoration features precision 3D engraving, bringing to life the festive message of "Happy Hanukkah" in a beautifully detailed manner. Placed on a mantle, tabletop, or anywhere in your home, it captures and reflects light, creating a dazzling display that resonates with the spirit of the holiday.
Its intricate design and craftsmanship make it a standout piece of Judaica art, perfect for enhancing the visual appeal of your Hanukkah celebrations and serving as a cherished keepsake for years to come. Whether you're decorating your own home or looking for a meaningful gift, this 3D engraved crystal decoration is a symbol of light, joy, and tradition during Hanukkah.
The Menorah Hanukkah is a vibrant and handcrafted piece of Judaica art that embodies the essence of Jewish tradition and celebration. This menorah, made in Israel, is a symbol of the Jewish holidays, particularly Hanukkah. With its intricate design and colorful accents, it becomes a visual centerpiece during the Festival of Lights, radiating joy and unity.
Its vivid colors and unique design also add a touch of beauty and spirituality to any living space, making it a cherished piece of decor. Whether as a personal keepsake or a thoughtful gift, this colorful menorah is a testament to tradition, culture, and the spirit of Jewish heritage.
The Stained Glass Star of David is a captivating and artistic representation of a deeply significant Jewish symbol. Crafted with skill and care, this stained glass piece showcases the Star of David, a symbol that holds profound spiritual and cultural meaning within Judaism.
As a decorative item, this stained glass Star of David can serve as a stunning focal point in a home, synagogue, or any Jewish setting. Its presence not only adds a touch of elegance and spirituality to the space but also serves as a constant reminder of faith, identity, and tradition. Whether used in religious ceremonies or simply as an art piece, the Stained Glass Star of David is a symbol of unity, heritage, and the enduring connection to Jewish culture and spirituality.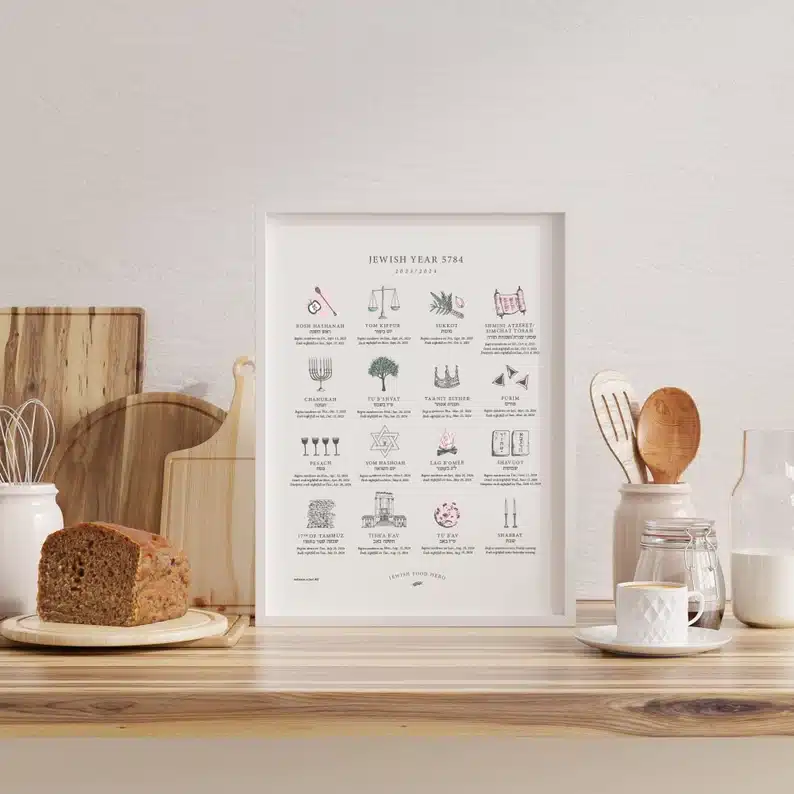 The Jewish Holiday Wall Calendar is a practical and aesthetically pleasing way to keep track of the Jewish year, specifically in Hebrew calendar 5784. This calendar serves both as a useful tool and a piece of Judaica wall art.
As a minimalist and modern Jew Calendar, it blends seamlessly with various interior design styles, making it a versatile addition to your home or office. It's not just a functional calendar; it's also a thoughtful Chanukah gift. Whether you're keeping track of Jewish holidays for religious observance or simply staying connected to your cultural heritage, this calendar embodies the perfect balance of form and function, making it a delightful and meaningful addition to your surroundings.
The Brtagg Menorah is a beautifully designed decorative Judaica piece, serving as a 7-branch candle holder with a height of 27cm. This particular Menorah features a striking color scheme of blue and gold, which adds a touch of regal elegance to its design.
As a Menorah, it holds a significant role in Jewish traditions, particularly during the celebration of Hanukkah when the nine branches are lit to commemorate the miracle of the oil. However, this decorative piece can also be appreciated year-round for its aesthetic appeal and cultural significance. Its design, combining the classic Menorah form with the colors of blue and gold, represents a harmonious blend of tradition and artistic expression, making it a cherished item for both religious and decorative purposes.
The Molly Brown London 18ct Gold Plated Star of David Necklace is a beautifully crafted piece of jewelry designed specifically for girls. This delicate necklace is made from high-quality sterling silver, with an 18ct gold plating that gives it a luxurious and lasting shine.
The central pendant features the Star of David, a significant and meaningful symbol in Jewish culture. This necklace is a wonderful gift choice for various occasions such as Passover, birthdays, and congratulations.
The Three-Strand Leather Bracelet with Steel Star of David Charm is a stylish and meaningful accessory for men. This bracelet combines three strands of braided leather, adding a rugged yet fashionable touch to your ensemble. The focal point of this bracelet is the steel Star of David oval charm, which dangles prominently.
This bracelet not only serves as a fashionable piece of jewelry but also carries deep symbolism and cultural significance. It's an excellent choice for individuals who want to proudly display their Jewish heritage and faith through their personal style. Whether worn casually or on special occasions, this bracelet is a statement of identity and a symbol of connection to Jewish traditions and beliefs.
The "8 Nights of Tea Hanukkah Calendar" is a unique and delightful Hanukkah gift set designed for tea lovers and anyone seeking a special way to celebrate the holiday season. Each day, recipients can look forward to discovering a new tea flavor, creating a unique and enjoyable experience throughout the holiday.
The "8 Nights of Tea Hanukkah Calendar" embodies the spirit of Hanukkah, fostering a sense of warmth and togetherness while adding a touch of creativity and novelty to the celebration. It's a perfect way to spread holiday cheer and show appreciation to your best friend or colleagues during this special time of year.
The Personalised Pillow Cover is a beautiful and customised addition to your Hanukkah decorations. This decorative pillow cover is designed to celebrate the Hanukkah season with a touch of personalisation. The highlight of this pillow cover is the option for personalisation, where you can add your family name, a special Hanukkah message, or any text of your choice.
Whether displayed on your couch, bed, or any other cozy corner of your home, this embroidered pillow cover adds a touch of warmth, elegance, and personalization to your Jewish decor during the Festival of Lights.
The Hanukkah Table Runner is a stylish and festive addition to your Hanukkah table decor. This table runner is designed to enhance your Hanukkah celebrations and set a beautiful and meaningful atmosphere for your gatherings.
Highlighted by an elegant gold Menorah design, this table runner embodies the essence of the holiday, symbolising the Festival of Lights. The Hanukkah Table Runner makes for an excellent Hanukkah decoration and is a thoughtful hostess gift for Jewish celebrations. Its festive design and durable construction ensure it can be used year after year to create a warm and inviting atmosphere for family and friends during Chanukkah.
The "Happy Hanukkah" Gift Box is a delightful and festive way to celebrate the holiday season. This specially curated gift box is designed to spread joy and warmth during Hanukkah and is a wonderful choice for both giving and receiving.
Inside the box, you can expect a selection of Hanukkah-themed items which have been carefully chosen to capture the essence of Hanukkah and create a memorable celebration for your loved ones.
The Shabbat and Havdalah Travel Kit Box in its small size is a thoughtful and practical Judaica gift that caters to Jewish traditions for both Shabbat and Havdalah ceremonies. This compact kit is designed to make observing these important rituals more convenient, especially when traveling.
Inside the box, you'll find essentials like beeswax Shabbat candles, Besamim incense, Judaica matchsticks, and perhaps other items to facilitate the rituals. Beeswax candles are often used for their purity and significance in Jewish tradition, and the Besamim incense is used during the Havdalah ceremony to mark the end of Shabbat.
Conclusion
Hanukkah is not just about the gifts; it's about the memories created, the traditions upheld, and the love shared. However, selecting the right Hanukkah Gifts can add a special touch to the celebrations. From timeless keepsakes to the best Bath Hanukkah Gifts for a relaxing experience, there's something for everyone. As the candles burn bright and the dreidels spin, let your gifts reflect the warmth and affection you hold for your loved ones, making this Hanukkah one to remember.
FAQs
What are traditional Hanukkah Gifts?
Traditional gifts often include gelt (chocolate coins), dreidels, books on Jewish history, and handmade crafts.
Where can I find unique Hanukkah Gifts?
Specialty stores, Judaica shops, and online retailers often offer a wide range of unique and personalised gifts suitable for Hanukkah.
Can I personalise Hanukkah Gifts?
Yes, many retailers offer options like engraving, custom designs, or personalised packaging to make your gift even more special.
What are some modern twists on Hanukkah Gifts?
Modern gifts might include tech gadgets, experience-based vouchers, or subscription boxes tailored to specific interests.
What are the best Bath Hanukkah Gifts?
For those who enjoy a relaxing bath, consider gifts like scented bath oils, luxurious bath bombs with hints of olive oil, plush bathrobes, or a spa gift set inspired by the scents of Israel.