Giving gifts is an age-old tradition that has been practised for centuries. Gifts are a way of showing love, gratitude, and appreciation for someone. Finding the perfect gift for someone can be challenging, especially if you do not know the person's interests and preferences. This ultimate gift guide will give you ideas for every occasion, including birthdays, holidays, and more.
How to Choose The Best Gift
Choosing the best gift is an artful endeavour that marries thoughtfulness with the recipient's tastes and desires. Start by considering their interests and hobbies and selecting something that complements and enhances their passions. Quality is paramount—opt for a gift that stands the test of time, both in craftsmanship and meaning. Practicality should not be overlooked; a great gift can often be used and appreciated regularly. Please pay attention to hints they may drop in conversations leading up to the occasion. For an exceptional touch, personalisation can go a long way; it could be as simple as a monogram or as intricate as a custom-made piece. Lastly, consider the presentation because the care put into the wrapping can be as impactful as the gift. By combining these elements, you can select a gift that is both memorable and deeply appreciated.
The Necklace is a beautiful and personalised piece of jewellery that's perfect for gift-giving. This necklace features a locket pendant that can be customised with a personal photo and text, making it a truly unique and meaningful gift. The locket is made from high-quality S925 silver and comes with a matching chain that's adjustable to fit any neckline. This necklace also comes gift-wrapped, making it an easy and thoughtful present for birthdays, Christmas, or any special occasion. Give the gift of personalised jewellery with the Custom4U S925 Locket Necklace.
The Personalised 8″ X 10″ Silver Plated Flat Edge Photo Frame With Stand! This stunning frame is the perfect way to display your cherished memories. Its sleek silver finish and elegant flat-edge design will complement any decor.
But what truly sets this frame apart is the ability to personalise it with your custom text. Whether it's a particular date, a heartfelt message, or a name, our expert engravers will ensure that your chosen text is elegantly displayed on the frame.
The frame also comes with a stand, allowing easy display on any tabletop or desk. It makes a perfect gift for weddings, birthdays, anniversaries, or any other special occasion.
With its timeless design and personal touch, our Personalised 8″ X 10″ Silver Plated Flat Edge Photo Frame With Stand will surely become a cherished keepsake for years.
the Samsung Galaxy Watch 3 4G Stainless Steel 45 mm Smart Watch in Mystic Silver combines style and functionality. This watch offers 4G connectivity to stay connected even without your phone.
This watch is fashionable and practical with a sleek stainless steel design and a large 45 mm display. It comes with various features to help you track your fitness goals, monitor your sleep, and stay on top of your schedule.
The Samsung Galaxy Watch 3 also offers advanced health monitoring features, including ECG and blood pressure monitoring. Its built-in GPS lets you track your runs and workouts without carrying your phone. And with access to Samsung Pay, you can make payments directly from your wrist.
This UK version of the Samsung Galaxy Watch 3 also features Samsung's intuitive user interface, providing a seamless experience across your other Samsung devices.
The Samsung Galaxy Buds2 Pro Wireless Earphones with Active Noise Cancelling in Graphite are the perfect audio accessory for the modern listener.
With advanced active noise cancelling technology, these earphones provide a fully immersive audio experience, blocking unwanted noise and allowing you to focus entirely on your music or calls. And with a comfortable fit and long battery life, you can wear them all day without discomfort.
These earphones also come with a 2-year manufacturer warranty, providing peace of mind and ensuring you get the most out of your investment.
The Samsung Galaxy Buds2 Pro earphones are easy to use, thanks to intuitive touch controls that allow you to control your music and calls with a simple tap or swipe. They are also compatible with Samsung's Galaxy Wearable app, giving you access to various advanced features, including custom EQ settings, Find My Earbuds functionality and more.
The Fitbit Charge 5 Activity Tracker, is the ultimate tool for tracking your fitness and wellness goals. With a sleek design and advanced features, this tracker is the perfect companion for your active lifestyle.
The Fitbit Charge 5 includes a 6-month premium membership, giving exclusive features like personalised insights, advanced sleep tracking, and guided programs to help you achieve your goals.
With up to 7 days of battery life, you can wear the Charge 5 all week without recharging. With the Daily Readiness Score, you can track your physical and emotional well-being and get personalised recommendations to help you optimise your workouts and recovery.
The Charge 5 also features advanced activity tracking, including built-in GPS, 20+ exercise modes, and automatic recognition. And with the Fitbit app, you can track your progress, connect with friends and family, and celebrate your achievements.
A hot air balloon ride is a unique and unforgettable gift. It's a great way to see the world from a new perspective and enjoy the beautiful scenery. Your brother will enjoy soaring through the air and taking in the breathtaking views.
If your brother is a wine enthusiast, a wine-tasting experience is a great gift idea. He can learn about different types of wine and try new flavours. This gift also allows him to socialise and meet other wine lovers.
For the adrenaline junkie brother, a skydiving experience is an unforgettable gift. It's a once-in-a-lifetime opportunity that he will never forget. He will experience the thrill of jumping out of a plane and soaring.
The Echo (4th generation) is a smart speaker that delivers premium sound quality and doubles as a smart home hub. Its sleek design and Twilight Blue colour make it a stylish addition to any room. This smart speaker is powered by Alexa, Amazon's voice assistant, which can play music, answer questions, set alarms, and control smart home devices with just your voice. The Echo (4th generation) features a 3-inch woofer and dual-firing tweeters, providing clear and dynamic sound for your music, podcasts, and audiobooks. Plus, with its built-in Zigbee hub, you can easily connect and control compatible smart home devices, like lights and locks, all through the Echo (4th generation). It's the ultimate smart home assistant that doubles as a high-quality speaker, all in one Device.
The Fire TV Stick with Alexa Voice Remote – the ultimate HD streaming device for your TV. With its compact size and easy setup, you can stream your favourite shows and movies in minutes.
The Alexa Voice Remote makes navigating your favourite apps and channels easy with just your voice. With the added TV controls, you can control your TV's power, volume, and mute buttons without using a separate remote.
The Fire TV Stick offers access to thousands of apps and channels, including Netflix, Prime Video, Disney+, Hulu, and many more. And with the ability to add subscriptions like HBO and Showtime, you can access even more exclusive content.
With its fast and responsive interface, you can enjoy smooth streaming with minimal buffering. With support for up to 1080p HD streaming, you can enjoy your favourite shows and movies in stunning detail.
Introducing the exhilarating sport of kitesurfing – a thrilling combination of wakeboarding, snowboarding, surfing, windsurfing, and power kiting. Nothing can compare to the pure adrenaline rush of riding the waves and feeling the tremendous power generated by the kites.
Kitesurfing offers an all-encompassing thrill unmatched by any other sport in the world. Cruising along smooth water, riding huge waves, and sailing through the air are just the beginning. With modern equipment and an approach to learning developed by the British Kitesports Association (BKSA), learning to kitesurf has never been easier.
On Day 1, you will receive an introduction to the sport, background theory on kite surfing, the equipment, and the environment. You will have a hands-on session with a power kite, exploring the kite's abilities and performance before heading into the water yourself. You will experience "body dragging" – being pulled by the kite – and all the thrills that come with it.
The Brewhouse and Kitchen Full-Day Brewery Experience! This behind-the-scenes introduction to brewing beer is perfect for beer enthusiasts and anyone interested in brewing. The day starts at 10 am with an introduction and cuppa, followed by the first stage of the process: mashing in. As the day progresses, you'll learn about the chemical process in the mash tun, have a bacon butty and beer-tasting break, and get advice on different beer and ale types brewed here. After lunch and another beer, you'll continue the boil, adding hops and kettle finings. Throughout the day, a professional brewer will explain every part of the process, giving you a thorough understanding of brewing. By 5 pm, you'll have finished the clean-up and can enjoy another well-deserved pint before receiving a certificate and a 5L mini-keg of brewed beer (valued at £25) to take away on the day. This full-day brewery experience is a must-try for anyone interested in beer brewing and will create lasting memories.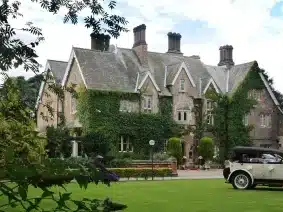 Indulge in pure luxury with an overnight spa experience at the Parsonage Hotel and Spa in Yorkshire. Step away from the hustle and bustle of everyday life and treat yourself or a loved one to some pure extravagance. Upon arrival, enjoy a delicious afternoon tea before indulging in the Spa & Health Club at your leisure. In the evening, dine in the award-winning Lascelles restaurant, with a £30.00 allowance per person towards dinner. After a delightful overnight stay, start your day with a delicious full-English breakfast. Each guest can also choose from a list of 25-minute treatments, including facials, massages, or manicures. The friendly staff will provide complimentary robes, slippers, towels, and lockers for comfort. Whether you want to leave with clearer and more radiant skin or relieve stress with a massage, the highly qualified and experienced therapists will provide the ultimate indulgent and tranquil getaway. This overnight spa experience in York will leave you feeling refreshed, revitalised, and ready to face the world.
Take some time out to relax and rejuvenate with a friend during this luxurious Hot Stone Yoga Session in Northampton. Your private class in yoga accompanied by hot stones will be led by a highly qualified instructor in an atmospheric yoga studio. This session suits people of all levels, so whether you're a beginner or an experienced yogi, you're in good hands. Hot stones during the session make for a soothing and deeply relaxing experience, helping to release muscle tension and stress knots. After an hour and a half of yoga, you'll be treated to a delicious afternoon tea with all the classic favourites and a bottle of Prosecco to share with your loved one. This package perfectly treats yourself or someone special to an afternoon of pampering and relaxation. Enjoy quality time with a friend or partner and feel replenished and rejuvenated. The Hot Stone Yoga Class and Afternoon Tea for 2 with Prosecco package is the ultimate indulgence for anyone who deserves a little bit of luxury.
The GoPro HERO8 Black – is the ultimate digital action camera for capturing your adventures in stunning detail. With its waterproof design, you can take this camera anywhere, from the ocean's depths to the top of a mountain.
Featuring a 4K video recording, the HERO8 Black captures every detail of your adventures with clarity and precision. With Hypersmooth stabilisation technology, your footage stays smooth and steady no matter how rough the terrain is.
The touch screen and voice control make it easy to control the camera and capture your shots, even while on the move. And with the ability to live stream in HD, you can share your adventures with the world in real-time.
With its compact and durable design, the HERO8 Black is the perfect camera for any adventure. You can customise your setup with accessories like mounts, cases, and batteries to meet your unique needs.
Unleash the spirit of adventure and togetherness with the Buyagift Fun Together Experience Box. This versatile product is your key to a world of exciting, fun, and relaxing activities for two people at various locations across the UK. Whether it's a romantic outing, a day of thrilling adventure, or a relaxing pampering session, this experience box opens up a realm of possibilities.
The Fun Together Experience Box features a range of trusted brands. It offers a multitude of choices, including activities like afternoon tea at Patisserie Valerie, Segway rally rides, indulgent meals, paintballing adventures, and wine-tasting experiences. With this gift, you're giving the gift of creating memories together, whether it's a date night, a day out with a friend, or a bonding experience for a couple. This product isn't just a gift; it's an invitation to explore, laugh, and celebrate the joy of shared experiences. It's perfect for those looking to make new memories, strengthen relationships, or have a great time together.
Celebrate another trip around the sun in style with the Buyagift Birthday Celebrations Experience Box. This versatile product is your passport to exciting and memorable activities, perfect for marking a particular day. Whether it's your birthday or a loved one's, this experience box is the ultimate gift to make the celebration unforgettable.
The Birthday Celebrations Experience Box offers thrilling experiences and activities tailored to various interests and preferences. From exhilarating adventures like skydiving and supercar driving to indulgent spa days and gourmet dining experiences, there's something for everyone. It's a fantastic way to create lasting memories and ensure the birthday celebrant has an incredible day. With this gift, you're not just marking another year; you're giving the gift of excitement, joy, and cherished moments that will be treasured for years. So, whether you're celebrating a milestone birthday or want to make any birthday extra special, the Buyagift Birthday Celebrations Experience Box is your all-in-one solution for the perfect gift.
Factors to Consider When Buying Gifts
When buying gifts, several vital factors can ensure your selection hits the mark:
Recipient's Interests: Tailor your gift to align with the recipient's hobbies, interests, or needs.
Occasion: The nature of the occasion—be it a birthday, wedding, or just because—can guide the appropriateness of your gift.
Personal Touch: Personalised gifts, from engraved items to custom artworks, show extra thought and consideration.
Quality: A well-crafted gift lasts longer and reflects well on your regard for the recipient.
Budget: Set a realistic budget and stick to it, as overspending can be unnecessary for a meaningful gesture.
Practicality: Consider how the gift will fit into the recipient's life and whether it will be of use or enjoyment.
Presentation: The way a gift is presented can enhance its value, so take care with wrapping and packaging.
Experience: Sometimes, the best gift is an experience or memory to be made rather than a physical item.
Cultural Sensitivity: Be mindful of cultural norms and expectations, as these can vary widely and impact how your gift is received.
Future Plans: If the recipient plans a significant change or event, like a move or a trip, choose a gift that complements this new chapter.
Return Policy: It's practical to consider the return policy for the gift in case it's not quite suitable for the recipient.
Balancing these factors can help you choose a thoughtful and appropriate gift for any individual and occasion.
Types of Gifts
Personalised Gifts – Personalised gifts are unique and thoughtful presents that show you put extra effort into selecting something special for the person. These gifts can be customised with the recipient's name, initials, or personal message.
Tech Gifts – Tech gifts are perfect for those who love gadgets and technology. These gifts range from the latest smartphone to a smartwatch or a portable Bluetooth speaker.
DIY Gifts – DIY gifts are perfect for those who appreciate handmade items. These gifts can be anything from a handmade scarf to a homemade cake mix.
Experience Gifts – Experience gifts are perfect for those who prefer to make memories rather than accumulate possessions. These gifts can range from a hot air balloon ride to a cooking class or a concert ticket.
Conclusion
Gift-giving is a beautiful way to express your love and appreciation for someone. Whether it's a birthday, holiday, or special occasion, these gift ideas will help you find the perfect present for your loved one. Remember, the best gifts come from the heart and show that you put extra thought and effort into selecting something special.
FAQs
What is a personalised gift?
A personalised gift is a customised present with the recipient's name, initials, or personal message.
What are some popular tech gifts?
Some popular tech gifts include smartphones, smartwatches, wireless earbuds, fitness trackers, and virtual assistant devices.
What are some popular DIY gifts?
Some popular DIY gifts include handmade cards, knitted scarves or hats, homemade candles or soap, and painted pottery or ceramics.
What are some examples of experience gifts?
Some examples of experience gifts include hot air balloon rides, wine tastings or vineyard tours, adventure activities like skydiving or bungee jumping, and romantic weekend getaways.
What is the best type of gift?
The best type of gift depends on the recipient's interests and preferences. Personalised gifts are always thoughtful, but experience gifts can create lasting memories. Ultimately, the best gift is one that comes from the heart and shows that you put thought and effort into selecting something special for the person.