A big brother often plays multiple roles in one's life: a protector, a mentor, a confidant, and occasionally, a partner in mischief. Recognising the depth and significance of this bond is essential, and a thoughtful gift can be a splendid way to do so. This guide aims to shed light on some of the best big brother gifts, ensuring you find the perfect token of appreciation that encapsulates the essence of your unique relationship.
Finding the Big Brother Gifts
Choosing the perfect gift for a big brother is a delightful journey that combines sentimentality with an understanding of his personal inclinations. Start by reminiscing about the moments, adventures, and shared experiences that have defined your relationship over the years. These cherished memories can guide you towards a gift that holds a deeper meaning. Delve into his hobbies, whether he's a tech enthusiast, an avid traveller, or a connoisseur of fine arts. Aligning the gift with his passions ensures that it's both appreciated and utilised.
Moreover, the most memorable big brother gifts often carry a touch of nostalgia. Personalised items, such as customised watches, engraved accessories, or bespoke artwork, can evoke fond memories and strengthen your bond. If you're unsure about tangible items, consider gifting experiences. A concert ticket, a workshop, or even a weekend getaway can offer unforgettable moments that both of you can cherish. Ultimately, the essence lies in choosing a gift that resonates with his character and the special bond you share.
Personalised Big Brother Teddy Bear is the perfect way to share the exciting news with your child about their upcoming role as a big brother! With its soft and huggable features, this adorable teddy proudly displays the fixed text "Big Brother" and can be customised with a name of up to 12 characters. Crafted with care, the personalisation is meticulously done, but do remember to avoid using fixed upper case for the best appearance. Safe for little ones aged 36 months and over, this teddy bear makes an ideal gift for new babies and siblings, capturing the essence of their special bond.
Sibling Teddy in a Tin – the quintessential gift to celebrate the arrival of a new baby in the family. Recognising that welcoming a new sibling can be a monumental moment for children, this Teddy in a Tin is a heartwarming gesture from the newest family member to their elder sibling. Encased in a beautifully designed tin adorned with a standard woodland fabric, as depicted in the images, this keepsake teddy is bound to evoke profound emotions. While the woodland fabric is our default choice, we offer alternative fabric options showcased in our gallery. If you prefer a different fabric, kindly mention it in the notes during purchase; otherwise, the enchanting woodland design will be selected for you.
The Personalised Big Brother/Sister Red Maserati Diecast Toy Car – a perfect blend of luxury and sentiment. This officially licensed Maserati Gran Turismo MC, available in striking red or elegant blue, is more than just a toy; it's a statement. Choose from the drop-down box and receive a brand-new, individually boxed treasure. To make it even more special, we offer customisation options: a personal message on the bonnet and a name of your choice on the side doors. With dimensions of approximately L5″(13cm) x W2.5″(6cm) x H1.25″(3cm), this model stands out, being notably more extensive than standard 'Matchbox' style models. Whether it's for a sibling, grandad, auntie, or birthday celebrant, this gift is bound to impress.
The Personalised Big Brother Little Brother Baby Outfits are an adorable and thoughtful gift for siblings. These matching pyjama sets are designed to celebrate the special bond between big brothers and little brothers.
The outfits come with personalised touches, making them extra special. You can customise each set with the names of the brothers, adding a personal and unique touch to the gift. This customisation not only makes the outfits a wonderful keepsake but also helps create a sense of belonging and brotherly love.Whether it's for a new baby brother or a gift to celebrate the arrival of a little one, these Personalised Big Brother Little Brother Baby Outfits are a heartwarming choice that will be cherished by the whole family.
The Dinosaur Big Brother Announcement T-Shirt is a delightful outfit designed for boys who are about to become big brothers. This shirt serves as a creative and fun way to announce the upcoming addition to the family.
The shirt features a cute and eye-catching dinosaur-themed design, which is perfect for little ones who love dinosaurs. The "Big Brother" announcement is prominently displayed on the shirt, letting everyone know about the toddler's new role in the family.  It's a great way to involve the toddler in the excitement of welcoming a new sibling and can help them feel proud of their upcoming role as a big brother.
The Big Brother Blue Pick n Mix 300g Sweets Gift Box Hamper is a delightful and thoughtful present designed to celebrate and welcome a new big brother into the family. This sweet gift box is not only a tasty treat but also a way to make the big brother feel special during a time of change in the family dynamics.
Inside this charming blue box, you'll find an assortment of 300g of delicious pick and mix sweets. These retro sweets come in various shapes, sizes, and flavors, providing a delightful candy experience for the big brother.
"I am a Big Brother" is a heartwarming children's book that celebrates the experience of becoming a big brother. This paperback book is designed to help young children understand and embrace their new role in the family when a new baby arrives.
The story is written from the perspective of the older sibling, and it explores the emotions and changes that come with the arrival of a new baby brother or sister. It highlights the joys of being a big brother, the responsibilities, and the love that grows within the family. "I am a Big Brother" books are a wonderful way to prepare and reassure young children about their role in the family's new chapter.
The Tickle & Main Big Brother Gift Set is a wonderful 3-piece gift ensemble that celebrates the important role of a big brother. It includes a heartwarming illustrated book called "Big Brothers are Superheroes," which helps convey the significance of being a big brother to the older sibling.
Additionally, the set features a satin superhero cape that allows the big brother to embrace their superhero persona and engage in imaginative play. The accompanying mask adds to the superhero theme, encouraging creative play and fostering a sense of excitement about their new role as a big brother. This gift set serves as a thoughtful way to introduce the arrival of a new baby while making the older sibling feel cherished and special, empowering them to embrace their role as the big brother.
The "Personalised Big Brother Story Book" is a heartwarming and personalised book designed to celebrate and prepare a child for the arrival of a new sibling. This beautifully crafted book features a personalised story that includes the child's name, creating a unique and engaging reading experience.
The narrative explores the concept of becoming a big brother, including the feelings, responsibilities, and adventures that come with this new role. It's a cherished keepsake that families can enjoy together as they celebrate the joys of brotherhood.
"The Big Brother Recipe" is a lovely and sentimental gift that celebrates the wonderful qualities of an amazing big brother. This unique and thoughtful gift is designed to convey appreciation and love to the big brother in a special and meaningful way.
The "Big Brother Recipe" includes a set of ingredients or qualities that make up the recipe for an extraordinary big brother. These ingredients may include attributes like kindness, protectiveness, humour, and love. Each ingredient is a representation of the unique qualities that the big brother brings to the family dynamic.
The "Big Brother Club Sweatshirt" is a charming and heartwarming garment designed to make a special announcement: there's a new addition to the family, and a child is about to become a big brother. These sweatshirts are often used as a fun and creative way to reveal a pregnancy to the current child in the family.
Wearing the "Big Brother Club" jumper or sweatshirt can help the child feel proud and excited about their upcoming role as a big brother. It's a lovely keepsake that captures the anticipation and happiness of this important family milestone.
The "Big Bro Square Shirt" and "Lil Bro Square Shirt" are adorable matching shirts designed for siblings, specifically for brothers. These shirts are a delightful way to celebrate the special bond between brothers and make for a wonderful gift for siblings.
These sibling shirts are not only adorable but also serve as a way to capture and cherish the sibling relationship. They make for great photo opportunities and can be worn on various occasions to showcase the brothers' special connection.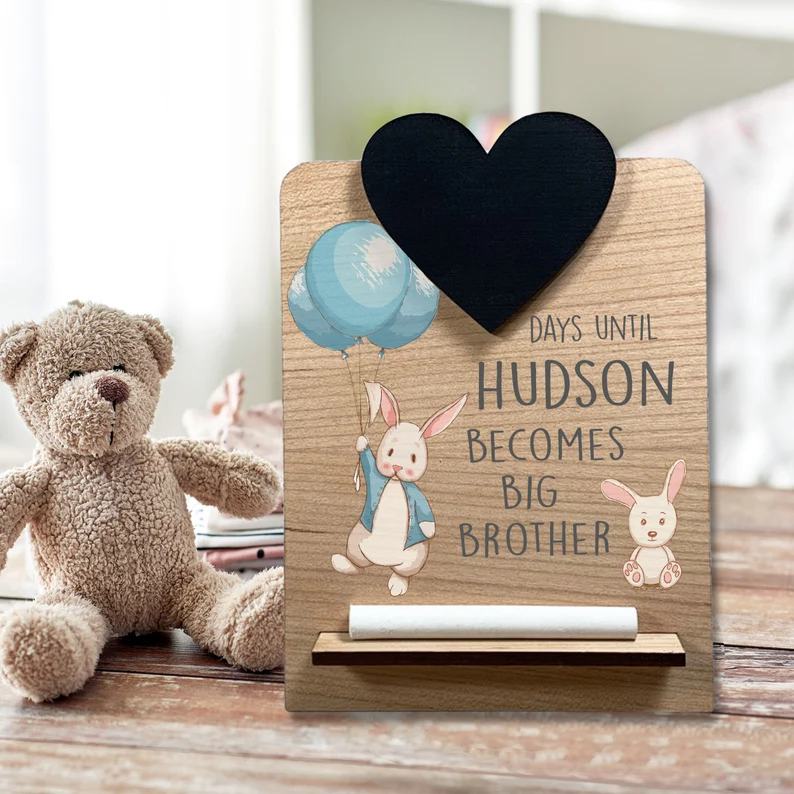 The "Big Brother Pregnancy Announcement" is a creative way to involve an older sibling in the excitement of a new baby's arrival. This announcement tool includes a countdown feature, allowing the big brother-to-be to visually track the days until the new baby arrives. It's a fun and engaging way to help the child understand and anticipate the upcoming addition to the family.
This announcement tool can be a wonderful addition to your pregnancy journey, fostering a sense of anticipation and bonding between siblings. It's a perfect way to prepare the big brother for the arrival of the new family member and celebrate this special moment together.
The "Big Brother Children's Journal" is a thoughtful present designed to celebrate and involve the big brother in the excitement of a new sibling's arrival. This journal serves as a wonderful keepsake, allowing the big brother to document his thoughts, feelings, and experiences during this special time.
It's a tool for the big brother to express himself, share his journey, and record his memories as he transitions into his role as a big brother. The journal includes prompts and spaces for the big brother to write, draw, and include photos. It's a creative outlet that encourages him to engage with the changes happening in the family and to build a strong connection with the new baby.
The "Number one Big Brother" Personalised Keyring Keepsake is a heartfelt and thoughtful gift to celebrate the special bond between siblings. This keyring incudes a design that includes "Number one Big Brother" along with the child's name. It's a keepsake that the big brother can carry with them, serving as a daily reminder of their important role in the family.
Gifting this keyring is a gesture that conveys love and recognition, making the big brother feel cherished and valued. It's a perfect way to celebrate their unique place in the family and to let them know that they are the best big brother.
The "Personalised Mug for New Sibling" is a heartwarming and thoughtful gift designed to welcome and celebrate a new sibling into the family. Whether it's a new sister or a new brother, this personalised mug is a wonderful way to make them feel special and cherished during this exciting time.
This mug can be customised with the name of the new sibling, making it a unique and meaningful gift tailored just for them. It's a great way to announce the arrival of a new family member and to make the new sibling feel important and loved.
Conclusion
The relationship with a big brother is one of profound respect, admiration, and deep-rooted love. While no gift can truly capture the entirety of this bond, the right one can certainly come close. The best big brother gifts are those that echo shared moments, mutual interests, and the countless stories that define your journey together. Whether marking a special occasion or simply expressing gratitude, a well-chosen gift can make your big brother's day truly memorable.
FAQs
Why are big brother gifts important?
Big brother gifts serve as a token of appreciation for the unwavering support, guidance, and love that elder brothers often provide.
What are some standout best big brother gifts for landmark occasions?
Timepieces, personalised cufflinks, and tech gadgets are popular choices for significant milestones or celebrations.
Are there any big brother gifts suitable for brothers with specific hobbies?
Certainly! Consider gifts like specialised sports equipment, hobby kits, or even books related to his interests.
Where can I source unique and customised big brother gifts?
Boutique gift shops and online artisanal platforms often showcase a range of bespoke and handcrafted items ideal for big brothers.
How can I add a personal touch to a big brother gift?
Incorporating a cherished memory, a photo collage, or even a handwritten letter can amplify the sentiment behind the gift.