Anime, originating from Japan, has taken the world by storm, creating a vast community of enthusiasts, often referred to as 'otakus'. Whether it's for a birthday, a special occasion, or just because, finding the perfect anime gift can be a delightful yet daunting task; in this guide, we've curated a list of top anime gifts that are bound to impress any fan. Looking for other Japanese Gifts? Check out our Japanese Gift Guide.
How to Choose the Best Anime Gifts
When selecting the ideal anime gift, it's paramount to consider the recipient's personal preferences. Start by determining their favourite anime series or characters, as this can guide you towards merchandise tailored to their tastes. If unsure, opt for versatile gifts like anime-themed clothing, art prints, or classic manga volumes. It's also wise to ascertain the age-appropriateness of the gift, ensuring it matches the recipient's maturity level. Authenticity is crucial; always purchase from reputable sellers or official merchandise stores to guarantee genuine products. Lastly, consider the uniqueness and utility of the gift. Exclusive, limited-edition items or multifunctional anime accessories can leave a lasting impression, making your present memorable and cherished.
The "Eat Sleep Anime Repeat" T-shirt is a fun and playful garment designed for anime enthusiasts, making it a perfect gift for those who are passionate about anime and manga culture. This shirt doesn't just cover you; it wears your love for Japanese animation proudly.
Featuring the catchy slogan "Eat Sleep Anime Repeat," this T-shirt captures the dedication and enthusiasm of anime lovers. It's a statement piece that celebrates the devotion of those who can't get enough of their favourite anime series and characters. Designed for both men and women, this shirt is a versatile addition to any wardrobe.
Anime Rug is a vibrant and unique addition to your home decor. These rugs are not just functional; they express your love for Japanese anime and manga culture. They feature iconic characters, symbols, or scenes from your favourite series, adding a personalised and visually striking touch to your living space.
The bold and vibrant colours of anime and manga are brought to life in these rugs, infusing your room with energy and creativity. They serve as excellent conversation starters, sparking discussions and connections with fellow fans who appreciate your dedication to this captivating culture.
A Mystery Anime or Demon Slayer Inspired Gift Box is a captivating and unexpected present that holds the essence of surprise and anticipation. It's an enigmatic journey into anime, making it an engaging and thoughtful gift for enthusiasts. These mysterious gift boxes are designed to pay tribute to the popular anime series "Demon Slayer" and often contain a variety of items that reflect the themes, characters, and artistry of the show.
While the exact contents remain a mystery until the box is opened, recipients can expect to find a mix of collectables, functional items, and artistic touches that celebrate their love for anime. What makes these gift boxes special is the element of surprise.
Elevate your anime-loving style with our Kawaii Anime Eyes Short Sleeve T-Shirt! This adorable tee perfectly blends Japanese culture and cute aesthetics into a fashionable and eye-catching design.
At the heart of this design are the irresistibly cute kawaii eyes that capture the essence of Japanese pop culture. With their large, expressive look, they'll surely put a smile on your face and anyone who sees them. Below the kawaii eyes, we've featured the word "アニメ" (Anime) in bold, authentic Japanese characters. It's a nod to the vibrant world of anime and manga that so many adore.
Experience the complete season of Horimiya in stunning Blu-ray quality with this Limited Edition set. Dive into the heartwarming love story of Hori and Miyamura as hidden personalities, unexpected connections, and blossoming romance take centre stage.
This Limited Edition Blu-ray set includes all episodes of the series, offering hours of captivating entertainment. The collector's packaging features exclusive artwork and designs, making it a prized addition to any anime enthusiast's collection. Plus, explore bonus features like behind-the-scenes content, cast and creator interviews, and more, delving deeper into the world of Horimiya.
The Pokeball Cufflinks are a unique and stylish gift for anyone who appreciates anime, fantasy, or video games, making them a great gift. These cufflinks are not just accessories; they're a subtle and fashionable way to express one's passions and individuality.
Crafted in the shape of the iconic Pokeball from the Pokemon universe, these cufflinks add a touch of whimsy and nostalgia to any formal or semi-formal outfit. They are a conversation starter, allowing the wearer to showcase their love for anime and video games in a sophisticated and subtle manner.
The "Anime Chef Cookbook: 75 Iconic Dishes from Your Favorite Anime" is a culinary delight that brings the flavours and creations of beloved anime series to life. Inside this beautifully designed cookbook, you'll discover a collection of 75 iconic dishes inspired by popular anime series. Each recipe is carefully crafted to capture the essence of the dishes featured in anime, allowing you to recreate them in your kitchen.
The cookbook offers a delightful journey through the diverse world of anime cuisine. From the mouthwatering ramen bowls featured in "Naruto" to the whimsical sweets seen in "My Neighbor Totoro," these recipes cater to various tastes and preferences.
The Enno Vatti 100 Anime Scratch Off Poster is the ultimate gift for Japanese animation enthusiasts and fans of anime. This poster, measuring 42 x 59.4 cm, is not just a decorative piece; it's a thrilling journey through the world of top-rated anime series and films. This unique poster features a meticulously curated selection of the top Japanese animes ever. Each anime is represented as a stylish and colourful icon.
As you watch these iconic series and films, you can scratch off the corresponding icon on the poster, revealing a vibrant image beneath. This scratch-off poster serves as a visual bucket list for anime lovers, allowing them to track their progress as they explore the best Japanese animation offers. It's a fun and interactive way to discover new series and revisit beloved classics.
The Bonamana Japanese Anime Cosplay Shoulder Bag is a must-have accessory for fans of the popular anime series "Sword Art Online." This messenger bag is not just a practical suitcase; it's a stylish and functional way to express your love for anime and its captivating world.
Designed with intricate attention to detail, this shoulder bag features elements inspired by "Sword Art Online," such as character motifs or iconic symbols from the series. It's a fashionable statement piece that allows you to showcase your enthusiasm for the anime subtly and tastefully.
A Japanese Candy Assortment Bag is a delightful and flavorful gift for anyone with a sweet tooth, especially those who appreciate the unique and playful world of Japanese sweets. This assortment bag typically includes a variety of traditional and trendy Japanese candies, providing a delightful and tasty experience.
One popular inclusion in such bags is the Japanese "pop in cookin" (neruneru) kit, which allows you to create miniature edible treats through a fun and interactive DIY process. These kits come in various flavours and themes, adding an element of creativity to the candy experience.
A Mystery Anime Naruto Inspired Letterbox Gift is a delightful surprise that captures the spirit of anticipation and anime fandom. This unique gift arrives in a compact package that fits right through the letterbox, making it a convenient and exciting present for anime fans and the beloved series Naruto.
These mystery letterbox gifts are carefully curated to include various items that pay tribute to the Naruto universe. While the exact contents remain a secret until the recipient opens the package, they can expect to find an assortment of collectables, memorabilia, and artistic touches that celebrate their love for anime.
The 925 Sterling Silver Anime Cosplay Ring is a unique and customisable piece of jewellery that carries the spirit of anime and cosplay culture. What makes this ring special is its vintage design and customisable nature. The intricate craftsmanship and attention to detail give it a timeless and gothic aesthetic, making it a statement piece that draws attention and admiration.
The ring's customizability allows you to add a personal touch to your jewellery. Whether you engrave it with a favourite anime character's name, a meaningful date, or a special message, you can make it uniquely yours. This makes it an ideal anniversary gift for him, showcasing your thoughtfulness and understanding of his interests.
The Sailor Moon Inspired T-shirt is a delightful and fashionable homage to the beloved Japanese series "Sailor Moon." This shirt isn't just clothing; it's a stylish and expressive way to showcase your love for the anime and its iconic characters.
Featuring designs and elements inspired by "Sailor Moon," this T-shirt captures the enchanting and magical world of the series. It's a statement piece that celebrates the enduring popularity of "Sailor Moon" and its place in the hearts of anime enthusiasts.
The Petrol Lighter with its Designed Styled Flip Top is more than just a practical accessory; it's a unique and stylish anime-inspired gift that adds a touch of character and flair to your daily life.
Featuring the "Change of Hearts" design, this lighter is not just functional but also a nod to the world of anime and its themes of transformation and adventure. It's a perfect gift for anime enthusiasts who appreciate utility and style.
Custom Anime Keycaps are more than just keyboard accessories; they are a personalised and high-quality way for anime enthusiasts to infuse their passion for anime into their mechanical keyboards. With 108 pieces featuring a Gundam Mobile Suit theme, these keycaps offer a unique and eye-catching addition to your keyboard.
Crafted from high-quality PBT with dye-sublimation, these keycaps are designed to withstand long-term use while maintaining their vibrant and detailed anime-inspired designs. The Gundam Mobile Suit theme pays tribute to the iconic series, making these keycaps a must-have for fans who want to showcase their love for the franchise.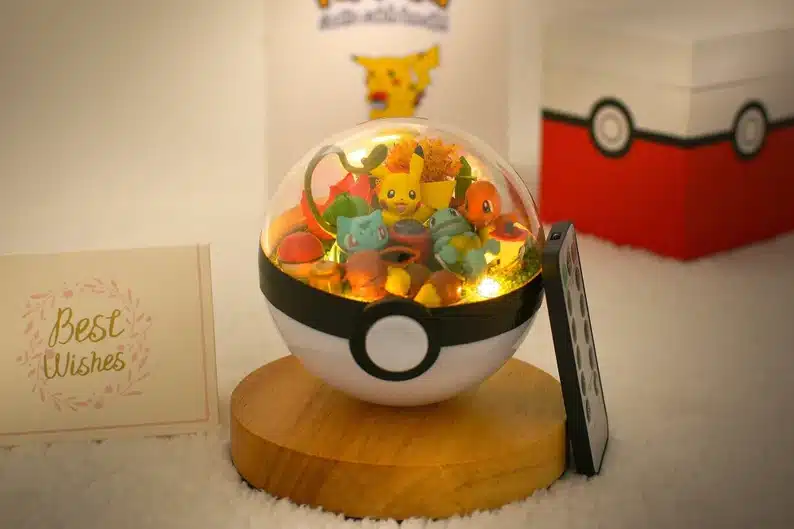 Pokemon Terrarium Gifts are not just presents; they are miniature worlds of wonder that capture the magic of the Pokemon universe. Featuring iconic Pokemon like Pikachu, Squirtle, Charmander, Eevee, and Bulbasaur in enchanting Pokeball-shaped terrariums, these gifts are a delightful and imaginative choice for fans of all ages.
Each terrarium is a meticulously crafted, self-contained ecosystem that brings the Pokemon to life charmingly and whimsically. Whether displayed on a desk, shelf, or bedside table, these terrariums are more than just decorations; they are a source of joy and inspiration for anyone who loves the Pokemon franchise.
The Ninja Anime T-shirt is more than just clothing; it's a symbol of fandom and a stylish way for otaku and fans of Japanese manga and anime to showcase their love for the ninja culture and their favourite series.
Featuring a Clan Symbol design, this unisex T-shirt pays tribute to the world of ninjas and the iconic Hokage symbol. It's a nod to the rich tradition of Japanese manga and anime that often feature skilled ninja characters and their adventures.
The Pocket Mirror inspired by Sailor Moon Compact is more than just a cosmetic accessory; it's a delightful and functional piece of anime-inspired memorabilia. This pocket mirror pays homage to the iconic Sailor Moon Compact and is a perfect gift for fans of the beloved anime series.
Designed to resemble Sailor Moon's transformation compact, this pocket mirror captures the enchanting and magical world of the Sailor Moon universe. It's not just a mirror; it's a miniature piece of nostalgia that allows you to carry a piece of your favourite anime wherever you go.
The Anime Dragon Ballz Tumbler is not just a beverage container; it's a customised and stylish way for fans of the legendary anime series "Dragon Ball Z" to enjoy their favourite drinks while showcasing their love for the show.
Crafted from stainless steel and featuring a custom design inspired by "Dragon Ball Z," this tumbler is a high-quality and durable accessory. It's not just a drinking vessel; it's a symbol of your enthusiasm for the series and its iconic characters.
The Personalised Hunter x Hunter Anime Night Light is more than just a desk light; it's a personalised and enchanting gift for fans of the popular anime series "Hunter x Hunter." Featuring a design inspired by Gon, one of the main characters in "Hunter x Hunter," this night light pays tribute to the adventurous and action-packed world of the series. It's not just a source of illumination; it's a miniature work of art that captures the show's essence.
What sets this night light apart is its personalisation. You can add a custom touch, whether a name, a special date, or a message. This makes it a truly one-of-a-kind gift that shows thoughtfulness and consideration for the recipient.
The Dragon Ball Super 2024 Calendar is not just a wall calendar; it's an official product that allows fans of the legendary anime series "Dragon Ball Super" to enjoy their favourite characters and moments throughout the year.
This calendar is designed to provide fans with a visual journey through the world of "Dragon Ball Super." Each month features stunning artwork and scenes from the series, allowing you to relive the epic adventures and battles that have made "Dragon Ball Super" a beloved part of anime history.
The Cluedo Dragon Ball Z board game is not just a mystery game; it's an exciting and multicoloured fusion of the classic Cluedo game with the iconic Dragon Ball Z universe. This game is designed for the whole family and provides a unique and thrilling gaming experience.
In Cluedo Dragon Ball Z, players take on the roles of their favourite Dragon Ball Z characters and work together to solve a mystery. The game board is adorned with vibrant and colourful artwork inspired by the series, immersing players in the world of Goku, Vegeta, and the Z Fighters.
The Pokemon Monopoly board game is not just a classic board game; it's a delightful and Pokemon-themed version of the iconic Monopoly game that brings the world of Pokemon to life. In this game, 2-6 players journey through the Pokemon world, buying, selling, and trading iconic Pokemon locations and characters.
What sets this game apart is its fusion of Monopoly's gameplay mechanics with the Pokemon theme. Players become Pokemon Trainers, and instead of houses and hotels, they build Pokemon Centers and Gyms on their properties. The traditional Monopoly tokens are replaced with custom Pokemon-themed tokens, adding a touch of nostalgia and charm to the game.
Factors to Consider When Buying Anime Gifts
Recipient's Preferences: Knowing the recipient's favourite anime series, characters, or genre can guide your choice towards something they'll genuinely appreciate.
Age Appropriateness: Anime content varies widely from child-friendly to mature themes. Ensure the gift is suitable for the recipient's age and maturity level.
Authenticity: Counterfeit products are rife in the anime merchandise world. Buy from reputable sellers or official merchandise stores to get genuine items.
Functionality: Consider if the gift is something the recipient can use regularly, like clothing, mugs, or stationery, as opposed to decorative items which might require display space.
Uniqueness: Limited edition items, rare collectables, or personalised anime merchandise can make your gift stand out and feel special.
Budget: Anime merchandise can range from affordable to expensive, especially for rare collectables. Set a budget to narrow down your options.
Quality: Ensure that the product is of good quality, especially if it's wearable or usable, like T-shirts or backpacks.
Cultural Significance: Some anime gifts may have cultural or symbolic meanings. Being aware can add an extra layer of thoughtfulness to your gift.
Availability: Some anime merchandise, especially those related to older or less mainstream series, might be harder to find.
Reviews and Recommendations: Check online reviews or ask fellow fans for recommendations on popular and well-received anime gifts.
By keeping these factors in mind, you can ensure that your anime gift is well-received and cherished by the recipient.
Final Word
Choosing the right anime gift can make all the difference, turning a simple present into a cherished keepsake. With our comprehensive guide, we hope we've made the task easier for you. Remember, it's not just about the item but the thought and love you put into selecting the perfect anime gift.
FAQs
What are the most popular anime gifts for fans?
From collector's items, apparel, posters to figurines, there's a wide range of popular anime gifts. The best gift often depends on the recipient's personal preferences.
Are there anime gifts suitable for all ages?
Absolutely! While some anime gifts are tailored for older fans, there are plenty of items, like plush toys or general merchandise, suitable for younger enthusiasts.
How do I choose an anime gift for someone who has everything?
Consider unique, limited-edition items or experiences like anime conventions or movie tickets. Personalised anime gifts can also be a hit.
Where can I buy authentic anime gifts?
It's essential to purchase from reputable retailers or official merchandise stores to ensure authenticity.